# TDOV

SOCIAL MEDIA STICKERS
The International Transgender day of Visibility (TDOV) was created in 2009 by activist Rachel Crandall. It is observed every year on March 31st.
TDOV is widely celebrated on social media, where transgender & gender-nonconforming people express gratitude for life through selfies, videos, and text posts.
Guided by
Rachel Goto Park
from Google, I illustrated and animated a set of stickers with a bold and lively voice, that could be used both to celebrate TDOV and to express daily experiences of transgender & gender-nonconforming people.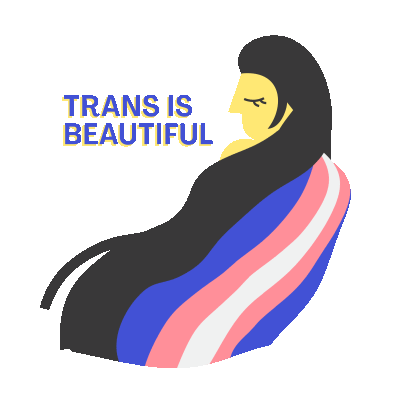 Process

For inspiration, I looked to illustration work that is bold and loud, yet simple enough to function as a sticker on a small scale. I found myself drawn to illustrations with flat colors, basic shapes, and diverse characters.
It was also important for me to look for LGBTQ+ identified illustrators/designers, and for visual elements that could be adapted to my own illustration style.
The natural first choice of colors were the colors of the trans pride flag. Because TDOV celebrates life, I brought more energy to the pallet by introducing a bright yellow, and a richer shade of royal blue for contrast.
I began with simple sketches in colored pencil, planning the appearance and gestures of the characters. It was important to create characters with distinctive and bold personalities, while still feeling universal and relatable.
︎ ︎

To use these stickers on Snapchat, Instagram, or Facebook Messenger, open the GIF sticker menu and search for 'Transgender Day of Visibility,' 'TDOV,' or 'Kayla Firth'